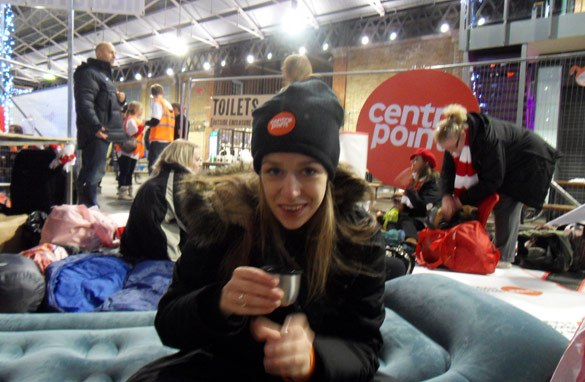 Sub-zero temperatures aside, I'd be lying if I said I didn't enjoy this experience.
It didn't look much like sleeping rough. But it certainly felt like it.
More than 400 people slept out in a covered market in the heart of London's financial district to raise money for one of the city's main homeless charities, Centrepoint. There was food, drink, live music, even the odd famous face. There were cardboard boxes, and sacks to sleep on, and everyone brought a sleeping bag. But it's November, Britain is in the grip of some quite violent winds. And the one thing there wasn't was heating.
At around 2 a.m. I encountered a dilemma. My nose was in danger of going numb, but I couldn't find a way of covering it without cutting off my oxygen supply. I pulled my highly inadequate, fluorescent pink sleeping bag over my head, and hoped for the best.
A little while later, the dilemma spread to my feet. I had smuggled in a hot water bottle (hoping to avoid the ritual cries of "cheat" from the other participants) but it was now stone cold. Adding more socks would involve several moments of facing the elements minus sleeping bag. Again I found myself unprepared to make this decision, and opted for doing nothing.
The night ended, much as it had started. With a decision. To go to work, or not to go to work. I knew the whole point was to go. To see what it was like to live on little or no sleep and to take on the same challenges – just with a lot less strength. This was the one decision I made, and made right.
Sub-zero temperatures aside, I'd be lying if I said I didn't enjoy this experience. It was highly organized, safe, and luckily it was a novelty. I'd also be lying if I said I experienced an epiphany about the life of a homeless person. I still wouldn't presume to understand what it's really like. But when I next see someone sleeping rough I might stop and wonder how many night-time dilemmas they encountered, and if they found a way out.
The Centrepoint Sleepout 2010 raised over $200,000 dollars to help young homeless people.
Posted by: Clare Sebastian, Quest Means Business Producer
Filed under: Business •Quest Means Business